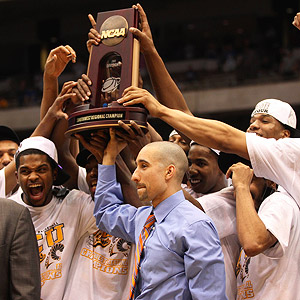 Are you familiar with the term "Coach em up", it's often used in sports to describe a team who despite not having the talent level of other teams have achieved a respectable level of success because the coach was able to inspire these lesser talents to play the game better than they've ever played before . Usually on teams like this you'll have one maybe two star players which said team has paid a handsome ransom , leaving little to no money left for the supporting staff which as a whole are as if not more important than the star player(s).
Every once in a while a coach is put in this type of situation and he's able to "Coach em up" and have a winning and sometimes dream season. The most recent example of this is probably Virginia Commonwealth University head basketball coach Shaka Smart (Yes Shaka is his real name) who coached his team superbly and even though they were literally the last team to make the NCAA tournament of 68 teams the VCU Rams made it all the way to the coveted Final Four, a place usually reserved for the likes of North Carolina, Duke, and Kentucky.
But coaching a team up is usually the exception not the rule. Take another example the New York Knicks. The Knicks started this past season with one star player Amare Stoudemire and had a really good supporting cast, at the beginning of the season they struggled a bit but about a third of the way through really began to hit their stride winning 14 of 15 games at one point with Stoudemire averaging more than 30 points per game. A little more than half way through the season Knicks management decides to trade almost all of its key role players to get one more superstar Carmelo Anthony. From that point the Knicks were very inconsistent lacking cohesiveness and while the 2 superstars flourished the supporting cast was so weak that the season ended with the Knicks being swept in the first round by the Boston Celtics a team with superstars and a great supporting cast.
We often see this "Coach em up" mentality in the world of media planning and buying. Clients often have their budgets squandered on one or two "superstar" media choices whether it be a massive TV campaign, glossy full page magazine ads extensive OOH efforts , or a robust digital campaign. Buyers and Planners will pour a ton of time, money and effort into these choices and completely neglect the supporting cast, the media that is going to reinforce the clients' message and reach those that aren't readily available through your "superstar" buys. You also have to take into account the changing demographics especially in top markets and that these emerging audiences or "The New General Market" are consuming media messages in an entirely different way than before.
What typically happens when agencies and in house marketing people take the "Coach em up" mentality when it comes to their ad campaigns and media choices? They get swept! Twelve weeks millions of dollars spent and the needle hasn't moved one bit, the client is pissed and the agency is called in for a review and often times ends up losing that piece of business.
You often hear in sports that what makes a superstar great is that he/she makes the other people on the team better with their raised level of play. In media buying and planning it's the exact opposite the supporting media buys are what make your superstar buys and overall campaign better, reinforcing that message to the clients audience and doing what's considered dirty work catching those consumers who are elusive slipping through the cracks. This is equivalent to the player who off the bench has 15pts. 10 rebounds 5 assists, and 3 block shots, the Robert Horry's of media world who aren't the most important piece but with them you're not making it to the next round or winning a championship.