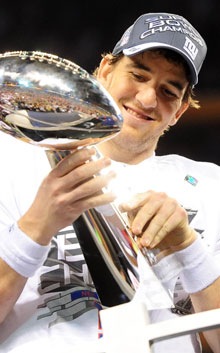 Winning is a team sport. Whether it's in athletics or marketing, there are always many pieces that go into creating a successful team. Last night, my New York Giants demonstrated that by winning their fourth Superbowl. Today, although the experts will dissect the play and coachinga of both the winning and losing sides, the Giants, the brand, will be what fans remember most as time goes on. Does your brand have a winning game plan? In recent decades the game has changed. The responsibility for the brand has become shared with advertising, media, the branding agencies, PR firms, and the in-house marketing team. The bigger the brand, the more players on the team. While there can only be one quarterback and one coach, everyone must play their role for the brand to win.
This year the Giants suffered nine season ending injuries on defense alone even before the season started, but by the time the Lobardi Trophy was hoisted, they held two of the games most prolific offenses in check and completely shut out another for four quarters. How?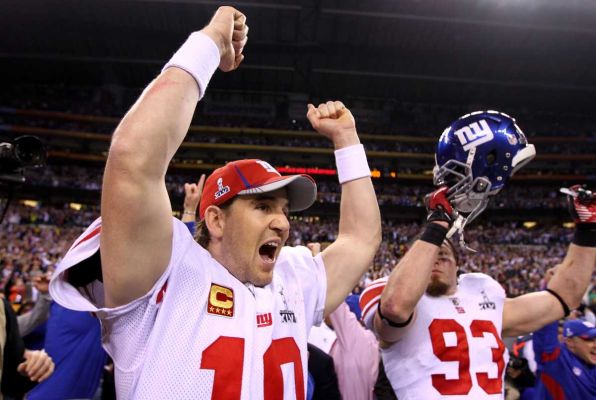 Prior to the season, star Defensive End Osi Umenyiora was upset about his contract and staged a short holdout in training camp, only to be forced to have knee surgery shortly after his first practice. He missed three games, returned and then suffered an ankle injury that cost him four more games. Most teams might have been devastated by the loss of their defensive leader and the distractions that he caused. Winning teams however, identify this as an opportunity. A winning brand must always have team members ready, trained, and motivated to step up and contribute when the starter is unavailable. Contingency plans must always be in place and practiced to precision.
While Umenyiora would return for the end of the season and play a vital role in the Giants Super Bowl run, his absence helped the team to develop cohesion and cultivate the talents of other players. Here are a few other areas where you can build team cohesion within the brand.
Resolving conflict: The New York Giants' brand has long been synonymous with class. The Umenyiora dispute was resolved quickly behind closed doors before its effects could escalate and affect the team dynamic. With so many "cooks" working on a brand there is sure to be some difference of opinion. However, they are always asking one simple question: "What is in the best interest of the brand?" This can eliminate damaging missteps. As a manager, it is important for you to check your pride at the door and not let your passion cloud your vision.
Devising a winning game plan. While Eli Manning may get credit for making unbelievable plays, they were dialed up by the Offensive Coordinator, Kevin Gilbride. With all of the clutter in the marketplace, any ambiguity or confusion will quickly turn consumers off and lead to failed strategies. Test and retest your brand with focus groups consisting of sample consumers in your target demographic. Its an inexpensive way to ensure you're on the right track with your customer. Be warned! The feedback may shock you. However, if you're prepared and open to criticism, you may receive the best advice all for the cost of lunch or a few slices of pizza. Incorporate their suggestions and concerns into your game plan and commit to it.
Exercising Communication. One of the hardest things to do on any team is communicate. We all have different ideals, values, come from different backgrounds and have varying degrees of motivation. Communication is key to winning championships. One might believe with all the social media, apps and digital gadgets that we would be able to communicate better. Instead, we spend too much time talking at them instead of listening to them. While these technological advancements can be helpful tools, they must be used to promote collaboration. No technology is a substitute for personal interaction. Schedule regular meetings with your vital team members to discuss questions, concerns and cultivate ideas in brainstorming sessions. Keep them to one hour if possible as they have the tendencies to become a time suck and retard productivity.
Believing in the mission. It is the responsibility for the players on the field or the members of the brand team to buy into the strategy. We must be ALL IN! To the consumer, they must see one cohesive brand message. Your team looks up to it's leader. When you show confidence in the mission, they will too. With you all on the same page, no force can deny you.