5 Ways To Scale Your Business Without Adding A Single Customer
5 min read
October 19, 2018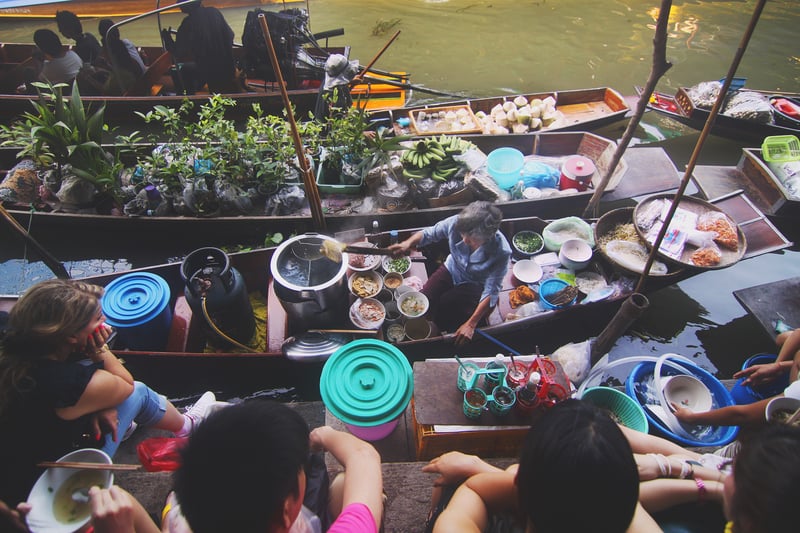 If increasing sales was easy everyone would do right? Well, that's not exactly true. The fact is most businesses aren't fully optimized and are leaking sales, and thus profits, at the seams. Now, you've probably thought increasing sales meant hiring a fancy guy or gal in a suit to make sales calls and visit clients. That's not exactly true. A salesperson is only a conduit to process qualified leads, business you haven't yet acquired. However, delighting your current customers is a way to keep them and add more value, which means more revenue. By creating an airtight sales process you can maximize your efforts, resource investments and time, all while turning more shoppers into buyers. If you're already in business and have customers, chances are they are your best chance to boost revenue and ultimately increase your bottom line. Here's are a few ways you can grow without adding a single customer.
Reward Your Current Customers With More Service and Value
There's no secret sauce to the equation. The only ways to increase revenue from your current customers (short of raising prices), is to increase how much they spend every time they purchase or to increase the amount of times they spend overall. You can track this with two very vital metrics every business owner should know: The Average Customer Lifetime Value and Purchase Frequency.
For most service providers (pool guys, mechanics, exterminators, dentists, maids, etc.), servicing your client more regularly will never hurt, and in fact will likely make your client happier. Your job will be easier because you will spend less time diagnosing the program, less time servicing them per visit with better preventative maintenance, and customers will have less issues as you can focus more on being proactive verses reactive.
Pro Tip: One easy way to keep track of and encourage repeat sales is through rewards programs. Gone are the days of punch cards for each cup of coffee, POS systems now can automatically reward customers after a predetermined number of purchases. Not only will you increase frequency but you'll be better able to measure the value of your average customer.
Be Your Customer's Lifestyle Partner
I recently had a conversation with a friend of mine who shared with me that he goes to the barber 3 times a week. As someone who goes twice a month at best, I found it to be very shocking but I was intrigued. Unpacking why, I discovered that he had a conversation with his barber about some of his lifestyle challenges. As a busy professional, with a schedule that demanded him being in front of the camera at a moment's notice, he couldn't afford to not always look "camera ready". Conversely, he didn't have the time to wait in a long line at the barbershop and miss risking an appointment. With a young family at home, consistency, reliability, and structure was what he needed. He negotiated with his barber a set time three times a week where he could get his hair cut and touched up so he was always looking his best no matter what the unexpected threw his way.
His barber wasn't a service provider but rather a stakeholder in his life. By easing anxiety of a potential wait on line, removing the obstacle of not looking his best and reducing the time spent at the barbershop and thinking about his hair, the barber was able to add a tremendous amount of value. By doing so, he increased purchase frequency and has a lifetime customer value more than 6x more than me, the average customer.
Pro Tip: Spend some time thinking how you can be more of a resource or lifestyle partner with your customers. Poll them. Invest in a conversation to see how your services and removing the challenges associated with procuring them, can improve their quality of life. People are willing to pay a premium for convenience.
Add A Spark In Your Customer Relationship
A common misconception business owners make is that customers will buy when they're ready. Now, I'm not saying to sell...sell...sell. That doesn't work either in today's internet shopping environment. There are however, customers that just love the high of being courted. It's as if the first purchase showed their hand. As in any romantic relationship, it's important to always keep that spark.

The same process you used to win their first business should be the same process you use for repeat purchases. If your customer came to you via email, make sure your Customer Relationship Management tool tracks their preferred method of communication. (For more on CRM, be sure to check our ebook). If they prefer to interact with you on Twitter, make sure you're engaging them in kind.

Pro Tip: Revisit your relationships with your best customers periodically for a spark. We mentioned rewards programs, however periodically surprising customers with product updates, email template refreshes and office redesigns are a great way to show them love and let them know you're not resting on the presumption that they'll always buy. A neglected customer is your competition's best friend.
Just Because They Want to Buy, Will They Remember To?
I don't need to tell you that consumers are distracted by all of the noise and stimuli that exist in today's society. Instead of being frustrated by it, as a business owner, you need to expect it, account for it and have a strategy to address it. Re-targeting is a great way to re-engage current (and yes, would-be customers) who may have just gotten a little distracted when purchasing online.

Have you ever been shopping for something and wondered if it was a coincidence that an advertisement for that very product or services popped up the next time you logged onto your computer? It's not an accident. Re-targeting is traditionally designed to recognize buyers in the decision-making process and poke or remind them about their recent search, in an effort to encourage a purchase. This same technology can be implemented to help absent-minded current customers to purchase your product before they run out. They were searching for a reason, if they've already purchased in the past, they don't need to be sold again. Just remind them.
Pro-Tip: One cool use of re-targeting to current customers is abandoned cart marketing. Software like Shopify has this built in for retailers. If a customer places an item in their shopping cart but doesn't check out, you can send them an email with a small reward (i.e.: discount or other products) to encourage them to take action. They'll appreciate it. Just be careful to monitor behavior or put a cap on the number of offers because savvy buyers will get hip to it and leave items in their cart on purpose knowing a discount on the item is coming.
Don't Assume It's Easy To Consume
It's important to monitor the process for making a purchase. As business owners, we often get so close to the product or service that we don't see bottlenecks in the process. Be sure that when a customer wants to buy, they can do so as easy as possible. Identify any "friction" in your buying process and work to eliminate it. This can be in the form of too many clicks to a purchase, confusing return or cancellation policies, requiring cash-only, inconvenient hours, etc. It's always a best practice to regularly speak with your customers to discover better ways to streamline their path to a purchase.
Pro-Tip: Keep a close eye on changes in your buying cycle. Even if the average time to a sale increases slightly, it may be a sign that there's a problem. Like any pipe, your sales pipeline can get clogged. Be proactive and treat the problem before frustrated customers walk away to a competitor. Offer incentives to your best customers for sharing feedback on how you can improve your process.