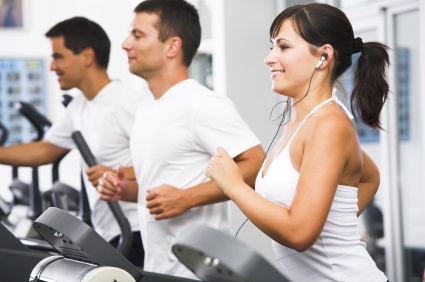 During a recent business trip, Daniel commented that its very difficult to maintain some form of consistency in your workout regiment on the road, especially when business calls for frequent travel.

As we age, health and fitness become more of a focus in our lives. Many of us have traded our morning bagel for Zumba and coffee sleeves for Yoga mats. But for those who travel a lot for business its not that easy to maintain the same state of zen that we're used to when close to home.

Here are a few tips to keep you focused losing those extra pounds without losing focus on the business at hand.

1. Keep a "GO-BAG" on the ready.

Your workout GO-Bag should be complete with all the gear and equipment you might need for a complete work out. You're less likely to work out on the road if you don't feel comfortable with borrowed equipment or need to hit the mall to buy a new set of gym clothes. This is similar to the practice the seasoned business traveler has for their sundries and toiletries. Keeping these items at the ready in the event of a last minute trip is an excellent practice. Consider a pair of cross-training sneakers good for cardio and strength training, shorts, a swimsuit, jump rope, resistance tubing, weightlifting gloves, a sports bra, extra underwear, headphones and a towel, (Although it would seem like a given, some hotel fitness centers don't provide towels.)

2. Work out in the morning

For many this won't be a problem as early workouts are the norm. Morning workouts gets makes sure it makes it into your schedule. Get in early because while most meetings don't commence before 9AM, you can't predict the client meeting running long or that 4PM meeting morphing into a business dinner. While it usually means good things for the bottom line, it does little for the waist line.

For those busy travelers who prefer a pre or post dinner workout you may want to consider altering your schedule, not just on the road but while at home as well. Maintaining a consistent schedule is key and your body will have a tough time adjusting to an earlier session. The worst thing you could do is wake up early and not get much workout equity for it.

3. Find out about gym partnerships

While for most jet-setters, the hotel gym will suffice for others, it just won't do. Many hotel chains only offer limited amenities. For instance, you would be hard pressed to find a hotel gym with any heavy free weights for liability reasons mostly. For those more advanced users your may want to look into gym partnerships. Your home gym membership may allow you to work out at affiliated gyms across the country. YMCA members are granted visitor status at other Y locations. The major sports club facilities like Sportsclubs Association, International Health, Racquet and others allows its members to use affiliated facilities at their clubs in other cities for little or no additional cost. Even if your gym does not have branches in other regions, one trick is to pick out the snaziest gym in the city you plan to visit. Inform them that you're a member of another facility in your hometown but they don't have locations in their city. They'll often let you use the facility for free as a visitor. You may have to listen to a sales pitch but at least you get to work out in posh surroundings.

Another good trick is to speak with the concierge. Hotels are not delusional about their facilities. If their gym is no larger than a broom closet, the hotel may have a partnership with a health club nearby. Speak with the concierge. Whenever I travel I like to ask them what's the best route to jog. They'll usually have about a 3 mile route mapped out for guests to run along.

The truth is that not every business trip is to the ideal setting. Sometimes you won't have access to a gym. But there's hope, resistance and your own body can often serve as the best personal gym. Here's a quick circuit workout that trains all of your muscles and doesn't require the use of a gym or weights.
Broad Jump: 10-12 Reps 2 Sets Stand with your feet shoulder-width apart and knees slightly bent. Dip your knees and jump forward as far as you can. Land on both feet with flexed knees. Pause, turn around, then jump back.

Reaching Lunge: 6-8 Reps each leg 2 Sets Stand with your feet shoulder-width apart. In one motion, take a lunging step forward as far as you can with your left foot and reach forward with both hands to touch the floor in front of you. Quickly reverse the motion to return to the starting position, then switch legs.

Bench/ Chair Dip: 10-12 Reps 2 Sets Place your hands behind you on the edge of a bench or chair and your feet on another bench or chair (or the floor) a few feet in front of you. Lower your body until your upper arms are nearly parallel to the floor. Pause, then press back to the starting position. Variation: If you have a partner ask them to place a phone book or even your luggage for added resistance.

Skiing Wall Squat: 30 seconds 2 Sets Lean against a wall, with your feet 18 to 24 inches away from it and shoulder-width apart. Bend your knees slightly and hold that position for 5 to 10 seconds.

Donkey Kick: 15 Reps each leg 2 Sets Get down on your hands and knees and kick your right leg back and up as high as you can. Finish by arching your back and pulling your knee to your chest. Repeat on the other side. Boot Slappers: 8 Reps 2 Sets Stand with your legs slightly wider than shoulder-width, squat down, slap the sides of your ankles, then stand back up. Repeat 10 to 20 times. Variation:After you slap your ankles, explode and jump straight up instead of standing up.

Kick Boxing: 50 punches & 10 Kicks 2 Sets Throw punches while alternating the weight on each foot. Don't go crazy but try to stay controlled. 10 right jabs, 10 left hooks, 10 right hooks, 10 left uppercuts, 10 right uppercuts. After each set up punches throw one kick as high as you can. The higher, the better.