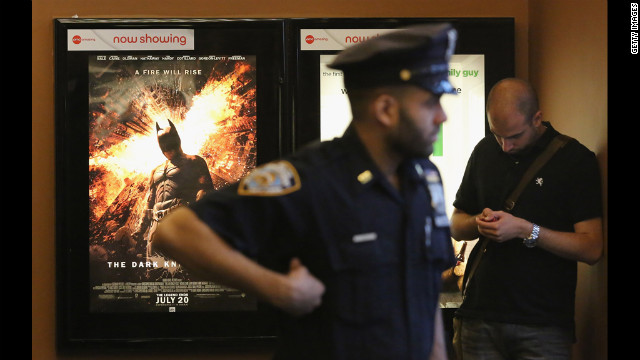 Going to the movies is now motive to be apprehensive. The cruel intentions of one person, tarnished the happy occasion of viewing the opening night release of the newest Batman movie: The Dark Knight Rises. On Friday July 20th, 2012, it was inevitable to empathize with the family members and loved ones, who grieved for the victims of the Colorado theater massacre. With 12 killed and 59 injured, the ludicrous act can hold claim to being the newest reason that erupts fear and anger in the hearts of Americans, as we extend these very hearts to those left mourning the lost.
Unfortunately, being born of a society that shuns the saying "prevention is better than cure" and uplifts the ways of "if it isn't broke don't fix it" it is only after this grave and terrifying event, that those in authority have chosen to put a stamp of priority on American safety. But why should we always wait to be hit and then strike back? Prevention and contingency should always be two aspects of great importance that surround our daily lives, and it is even more so imperative in the world of business. Since change is the only constant variable that we are faced with today, we can testify that waiting for damage to happen before implementing methods of precaution and back up plans is usually a recipe for disaster: including but not limited to, increased finances and time. The sole foundation on which the cure for this epidemic can be found is simply planning.
Long gone are the days when it was sufficient enough to have a 'Plan B" now it is crucial to have various ways to rectify any problems that may come along the course of a successful business path.
Alternative methods should be well thought of:
They should explore the possibility that anything is possible, eliminating the chance of playing safe and becoming complacent. -Think outside the box and construct effective plans that cover even the unexpected.
They should be operable at the time needed- practice carrying out your plans of contingency. Nothing positive ever comes out of procrastinating. This is also a great method to identify any glitches or areas of your plan that may need improving.
Use past problems as a guideline to prevent the future ones – This is simply taking the old saying "learn from your mistakes" literally.
Delegate responsibility to departments or persons dealing with a different angle of the business. Leaving one individual to handle a situation when back up plans are needed usually causes chaos. Make clear and exact instructions to subordinates that can be implemented to ensure a successful plan operation.
Keep updating and improving. Never get caught saying "Well this is what we've done for years." Keep abreast of the changing times in the economy and adapt. This guarantees that your plan will be ready for what ever situation arises.
I honestly believe that every disappointment is a blessing, and lessons can be found in every unfortunate situation. There is no telling what unfortunate predicaments may arise while working hard at the goals for the business year, or even running your household. But waiting until it rains to buy an umbrella should not always be the lackadaisical strategy we rely on. As the ever so great Benjamin Franklin said, "By failing to prepare, you are preparing to fail." Start learning to cater for the unexpected and greeting it with open arms, so you won't be caught in the dark of the night.
It is really saddened that it takes an event so tragic to teach life lessons, and I join with the rest of the American population, praying for the broken families, and also wishing for an end to carelessness and unnecessary grief.
Kelly-Jean James