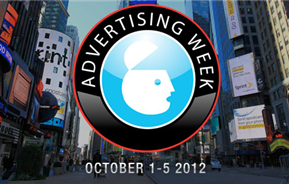 The first week of October is Ad Week in NYC a week were ad professionals from all round the world gather for informative sessions panels and discussions about what's new in the World of Advertising. As I mentioned in a previous post these type of industry related events pose a great way to network and develop yourself professionally. If you know anything about Ad week or any other event like it you know there's absolutely no feasible way to attend all of the events and you have to be extremely selective about the events you do attend or risk squandering all of the opportunities the week provides. For us here at Highbrid Media our focus for Ad Week were events and panels that focused on the Multicultural/Millennial/ and Female markets. In our role as a firm "Building Brand Experiences" these are the segment of populations we focus on not trying to be all things to all people but providing a level of expertise among these niche groups that other firms may not be able to offer. There were a few things that dawned on me throughout the course of the week that I'd like to share; first the fact that there were a significant amount of events that focused on the populations I mentioned before lets I know the industry and overall world view is moving in the right direction. Second for the industry to even be comfortable enough to focus on these demos there had to be trailblazers who paved the way. And finally how long before these demographics become primary focuses even amongst general market firms looking to grab pieces of an emerging audience.
Anyone who's been associated even casually with the advertising industry can tell you that diversity has been a challenge to say the least. Diversity in the spends that take place on campaigns, diversity in the demos represented in creative, diversity in agency staff/Talent which trickles down to the prior mentions, and last but not least supplier diversity. At most of the over a dozen events I attended throughout ad week diversity and inclusions were main themes.
The 2010 Census has been a catalyst in making marketers and agencies wake up and realize that the demographic makeup of the country is changing and their marketing strategies and messages have to change along with it. Highbrid Attended numerous events over the course of the week that addressed these changes not only on a surface "Latinos are a growing market" generalizations that you here all the time now, but looking more in depth at what makes these markets tick. What is the makeup of the "Modern Family" including LGBT families and how can we as marketers engage these audiences and stay away from the generalizations, stereotypes, and biases that have doomed campaigns in the past.
Another self-revelation I had in the course of the week was for the industry to be in a position where multiple agencies and brands have a strong desire to discuss and tap into these emerging demographics, There had to be trailblazers who were beating the drum of diversity and multicultural marketing way before it was sheik and cool to do so. Granted as I mentioned before the 2010 Census has something to do with the shift in the industry mindset, you cannot overstate the importance of pioneers like Byron Lewis founder of Uniworld Group, Danielle Hudler former Advertising Director at Chevrolet, Martha Stewart founder of the company that has her name, and Eduardo Caballero a renowned pioneer who's credited with being a key member of the group who founded Univision in shifting the conversation in advertising to include Women, LGBT, and other ethnic communities. There's no doubt in my mind that without these individuals and dozens of others that I've failed to mention the ad industry would still have many of the closed minded misogynistic views that have been glamorized by shows like "Mad Men"
In attending Ad week over the last few years, most of the events focusing on emerging demographics namely multicultural, millenials, and women were always treated as fringe events that smaller "Boutique" firms did because these are the demos they focused on. This was a stark contrast to what I experienced this year which was large general market agencies holding forums and panel discussions about these audiences and positioning themselves as dedicated experts when it comes to reaching these demos on clients behalf. Now one can argue about the validity of this and I'm sure it's at least in part motivated by the what's perceived to be sectors that have the highest potential for growth aka profit. But it still doesn't diminish the fact that Multicultural, LGBT, and Women are demographics that brands and agencies that weren't paying attention to before are paying attention now. And with general market agencies staking their claim this only goes to validate these markets as viable and here to stay.
Admittedly I have a cautiously optimistic personality, and when you've been working in this industry in the multicultural space for as long as I have it comes with the territory, but what I witnessed and participated in this year for ad week let me know that Multicultural, LGBT, and women are the future. Government solidified it, Brands realize it, and agencies for better or worse have to live with it.