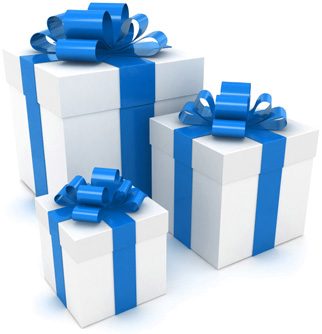 It's that time of year. While the thought of giving gifts is a joyful one, when it comes to taking care of client it can be rather stressful. To give or not to give and how much, how many? Is a card enough and who is deserving? In business, almost everyone has clients and everyone is a vendor but when giving there a few things to keep in mind. Gifts even in a business setting are a personal thing. You need to demonstrate some thought and care with your gifts. The obligatory or indifferent gift is obvious. Give a gift that reminds your client of your relationship or how you helped them reach a milestone. Stay away from gift cards, they tell your client you know nothing about them unless they have a very special significance. Remember, thoughtfulness is more important in giving than the gift's price tag.
There are three very important things to keep in mind while client gift giving.
1. Delivery it before Christmas, earlier if possible. Having your gift delivered by the 20th ensures timeliness. Remember clients espeically high level executives tend to take extra time during the holidays make sure they receive their gift before departing for the holiday.
2. The note is everything. Don't spend hours preparing cards, envelopes gifts and packaging and neglect the not. It tells you everything about the gift, the relationship and the thoughtfulness of the giver. Take the extra time to hand write a personal note and the gift will go a long way to establishing rapport with your client.
3. BE CULTURALLY SENSITIVE! Remember we all come from different walks of life. The worst mistake you can make is wishing someone a Merry Christmas, however innocent when they're actually Jewish. The "Happy Holidays" salutation is always safe and covers all bases.