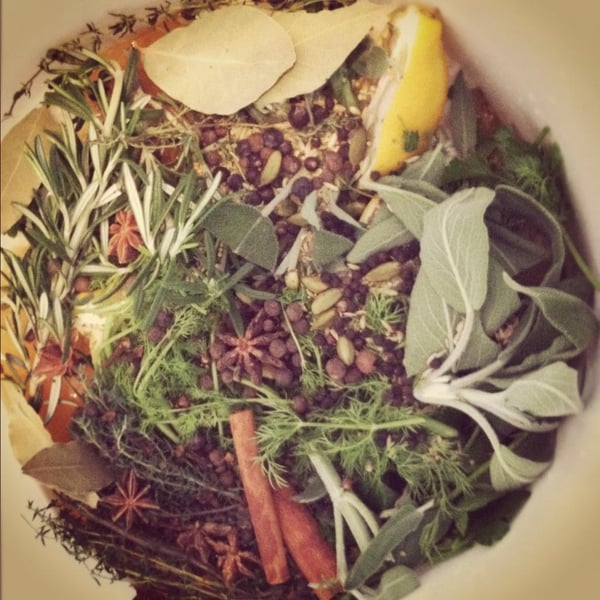 Raise your hand if you've ever had a Thanksgiving turkey that was dry and lacked flavor. OK! Put your hand down, people will look at you funny. The point is, we all have right? Well, last year during the holidays I visited a close friend of my sister and her father was cooking up the seasonal bird. I happened to take a peek over his shoulder while he was preparing the brine and couldn't believe what I saw. Is that a Christmas Tree? Low and behold he was using spruce branches (taken from an ornamental blue spruce or Norway spruce) in his briney bath for the turkey to give it a woodsy taste, as he described it. Essentially you're soaking the turkey overnight in this brine and it infuses the meat with flavor and keeps it from drying out. I got a quick photo of the brine and secured this special turkey brine recipe for you. He's a true foodie and loves to cook so you might think the ingredient list is excessive. Don't feel compelled to use all the ingredients. Try it out though and be sure to tell us how it goes.
ALSO CHECK OUT CLIENT HOLIDAY GIFT GIVING: PLAY BY THE RULES
Serves 12-24
For the Brine:
1 ¼ cups kosher salt
3 ¼ cups sugar
2 cups honey
2 lemons, cut in half
6 sprigs fresh parsley
6 sprigs fresh dill
6 sprigs fresh thyme
6 sprigs fresh tarragon
6 sprigs fresh sage
2 sprigs fresh rosemary
2 tablespoons mustard seeds
2 tablespoons fennel seeds
2 whole cinnamon sticks
5 whole bay leaves
8 whole cloves
1 tablespoon juniper berries
1 tablespoon whole cardamom pods
2 tablespoons whole black peppercorns
5 whole star anise
1 tablespoon whole allspice
1 two-foot long spruce branch, washed and cut into small pieces
1 one-foot long piece of sassafras root, washed and cut into small pieces (If you can't find whole sassafras root, 3 to 4 ounces of loose sassafras tea can be substituted.)
2 gallons boiling water
Combine all ingredients except the boiling water in a 5-gallon heat-proof container large enough to hold the turkey.
Pour the boiling water over the brine ingredients and let the mixture cool to room temperature.
Submerge the turkey in the brine, cover and refrigerate overnight.
For the Turkey: 1 fresh turkey, 18 to 20 pound fresh A 2 by 2 foot square of cheesecloth 2 pounds (eight sticks) butter, melted and kept warm. Spruce limbs for garnish
Preheat the oven to 325 degrees.
Remove the turkey from the brine and rinse it off under cold water.
Place the turkey in a roasting pan. Carefully dip the cheesecloth into the melted butter and lay it on top of the turkey.
Place the turkey in the oven and roast for 3 to 4 hours, basting the cheesecloth with melted butter about every 30 minutes. The turkey is done when a thermometer inserted into the thickest part of the thigh registers 160 degrees.
Remove the turkey from the oven and allow it to rest for 30 minutes. Carefully remove the cheesecloth and place the turkey on a serving platter. Surround the platter with the spruce branches.