How to Predict When You're Not Going To Hit Your Enrollment Goals
5 min read
August 28, 2018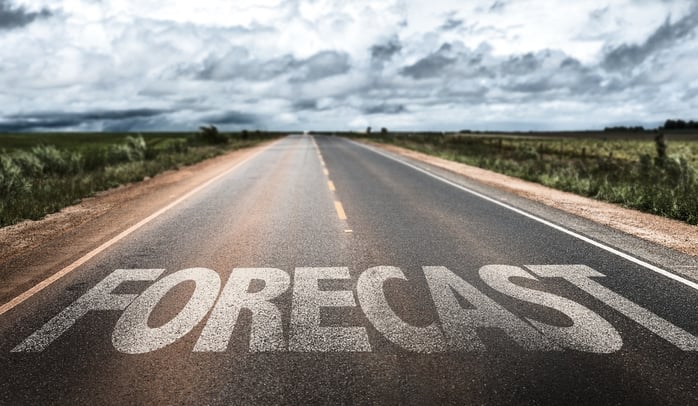 School enrollment is never ending. Semester after semester schools set enrollment numbers based on the goals of their various programs and the school as a whole.
No enrollment or admissions office is perfect. There will be times when you'll hit your numbers. There'll even be times when you exceed those numbers. But the instances that keep enrollment and admissions professionals up at night are the times when you aren't meeting your numbers.
If this becomes a consistent occurrence, the ramifications can span from your job being in jeopardy to the school losing programs and sources of funding (ex. Government allocated funds, donor and non-profit grants, etc.).
Here's the good news! You don't have to wait till the end of enrollment to figure if you'll hit your numbers or not. There are some key performance indicators (or KPIs) that will alert you that meeting your enrollment goals is in jeopardy.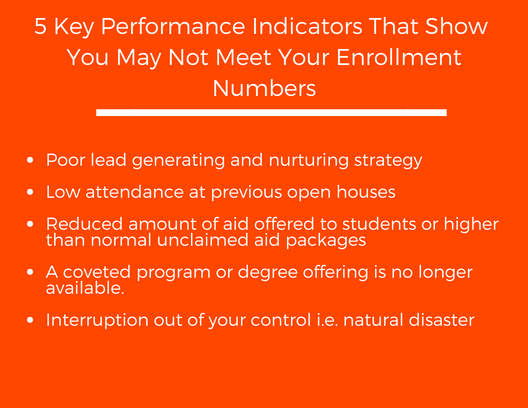 Poor Lead Generation and Nurturing Strategy
If you aren't generating enough quality leads and nurturing them to close, or in this case, enrollment, then you're already is deep trouble, you just might not know it yet. For schools in particular, the ability to generate high quality leads is of the utmost importance. Your plan to nurture those leads has to be air tight no matter what part of the world you're in or what level of school we're discussing; the competition is stiff!
Your target persona (perspective students) have numerous options to choose from and schools all over the country are vying for their attention. This is why developing leads, whether through a content strategy with built in conversions or traditional educational lead generation avenues like open houses and school fairs, is so critical to your success.
But once those leads are captured, you will need a compelling nurture plan. If not, hitting those enrollment goals will be very difficult.
Low Attendance At Previous Open Houses
Open houses have always been a great source of lead generation for colleges. The concept is simple, executable, and speaks to your target persona. If attendance at these tested forms of lead generation are low, then it's an indication that you may have an issue making your enrollment numbers moving forward. Typically open houses and most lead generations strategies on a college level are geared to enrolling students between 1 - 3 semesters out. The silver lining to this indicator in particular is that if you're paying attention you should have an opportunity to turn it around increase activity and lead gen/nurture prior to enrollment deadlines.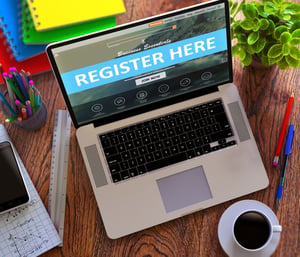 Decreases or Unclaimed Financial Aid
Although often treated as separate functions and certainly housed in separate areas of the campus or building, financial aid metrics are closely linked to enrollment and more schools should find ways to integrate these two departments. So in terms of predicting whether or not you're going to hit your enrollment goals, looking at the activity in the financial aid office is a savvy way to go. If you notice that for consecutive semesters the dollar amount of unclaimed aid increases, that may be an indication that your enrollment is suffering and will continue to do so.
Think about it: if a prospect is coming to the school and you offer them aid, what's the chances that they don't claim it? Also, if you know that financial aid awards are going to decrease overall, it's safe to assume that enrollment is going to decrease as well. As mentioned prior, competition is stiff and most students, traditional or non-traditional, are going to need some type of aid, full time or part time. If your school won't provide them with the aid they need, they will certainly search elsewhere.
Loss Of A Coveted Program Or Degree
Many institutions have a specialty or at least something they are known for. The School of Journalism, your business program, a photography major, or even a particular sports team. Over time and through successes these offers can become a major draw for a school and can act as a lead generation apparatus within themselves. If a degree program or perceived advantage to attending your school is lost then naturally you're going to see a drop off in enrollment. How long this effect will take place is a case by case guess based on your school's individual circumstance.
In some instances, schools may have built in pipelines that break and they can no longer provide leads and subsequently students to the school. An example of this would be the relationship between Junior High School prep programs and Private Boarding Schools on the High School level.
They often have agreements that students who show exceptional talent and smarts in JHS will be selected, groomed and prepped attend private boarding schools for HS where they otherwise wouldn't have had the opportunity. These type of arrangements are low hanging fruit for enrollment with a guaranteed number of students. If this type of pipeline disappears, it can create a downward spiral for their school.
Uncontrollable Interruption
Certain times there are things that are just out of your control like a natural disaster, terrorist attack, on campus shooting, etc. These things will have an effect on enrollment for a number of reasons, from basic functions at the school not being able to move forward because of lack of access, key personnel having to be replaced or trauma where faculty and staff are unable to perform their usual tasks. The silver lining again is that you're recruitment activities are usually a semester or more removed from prospective students actually enrolling. So given the nature of the interruption and your response, you could get back on track before the decline in enrollment becomes a pattern.
Enrollment is a difficult and key function for any school and requires precision and planning. You're not infallible and will sometimes not hit the enrollment goals but if you have instances of uncontrollable interruption, lose a coveted pipeline/program, experience a decrease in aid or increase unclaimed aid, low open house attendance, or poor lead generation/nurturing, you can at least predict your outcome and prepare accordingly. Knowledge is power this realization means you're paying attention and may have time to address the immediate issue or at least make plans so that the same thing doesn't occur in subsequent semesters.
Are there indicators or systems you've implemented to predict whether you'll hit or miss enrollment? Please share and comment!