Non-Traditional Student Recruitment & Grassroots Marketing Case Study
5 min read
February 09, 2017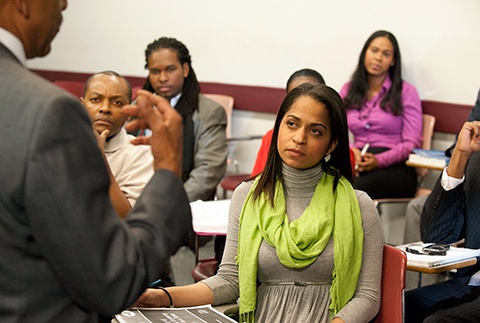 For the truly passionate marketer, it gives them no greater pleasure than to have the ability to brainstorm and create untethered to any budgetary or creative restrictions. Unfortunately this is a rather utopian concept. The reality is in effort to reach the targeted populous and to be responsible to the investment return, one must often sacrifice. Perhaps the closest I can remember coming to this marketing oasis, was in the planning stages Metropolitan College of New York (MCNY's) Bronx Campus Relaunch campaign.
New Yorkers might remember the 1980's commercials they ran under their previous name, Audrey Cohen. From its inception, MCNY has been dedicated to serving the needs of New York's growing non-traditional student demographic. Unlike most colleges and universities, MCNY's typical students are adult, and almost all work either full or part-time to support themselves, their family and education.
According to the National Center for Education Statistics thirty-eight percent of those enrolled in higher education are over the age of 25 and 25 percent are over the age of 30. The share of all students who are over age 25 is projected to increase another twenty-three percent by 2019. With the city's average student aging and the internet making online classes more accessible, degree programs like those offered at MCNY became in high demand.
While this offered a huge opportunity for MCNY, what was traditionally a very niche market, quickly became an extremely competitive space. For-Profit institutions and traditional colleges, even New York's public CUNY and SUNY schools started cherry picking non-traditional students. In response, MCNY needed to move quickly and develop some easy wins. They decided to re-open their old satellite campus in the South Bronx and hire Highbrid to handle the launch marketing.
Initial Challenges
Perhaps the largest challenge we faced was timing. We were brought on board literally weeks before the semester was to start.
Additionally, despite being just one block from the South Bronx's popular Hub Shopping District, the campus was unfortunately located on a back street and not visible to the tens of thousands that shopped in the area daily.
Lastly, within a 10 block radius in any direction, there were no less than 10 colleges with similar rolling enrollment schedules, including Hostos Community College just down the hill.
Quicks Wins
With such a tight timeline, our team needed to focus on some very early victories. While competition was very intense in the immediate area, our research showed this area of the South Bronx (Mott Haven) was home to many social service facilities and health care facilities, namely Lincoln Hospital which was blocks away as well as Bronx Lebanon Hospital's satellite clinics. As you'll see in the full case study we focused our efforts on a grassroots marketing approach by engaging working professionals in the Health and Human Services industries for their Human Services, CASAC, Healthcare Systems and Public Health academic verticals.
Our sponsored lunch program engaged these busy professionals through a coordinated series of free lunch deliveries to the medical and support staffs at Lincoln Hospital, social services centers, mental health clinics and counseling centers in the immediate vicinity.

We recognized a huge opportunity for engaging street traffic by branding helado carts. More commonly referred to by English speaking Americans as Icees or Ice, these summer treats are a staple in the Bronx's Latino communities and served as a huge opportunity for engagement. Through a strategic partnership we were able to brand the sides of 26 Helado carts and complemented them with an MCNY cart umbrella and branded dixie cup. (Side note: our vendors were very happy about as it saved them a small but very necessary expense for an entire summer).

As you will see in the full case study, several of our grassroots initiatives focused on pedestrians as the street traffic in this area registers as some of the highest in the city.
Digital Integration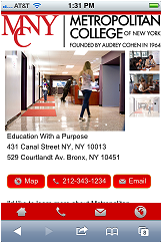 One of the initial opportunities we identified came in the digital arena. Our audit revealed a particular lead funnel leak among digital users. We were able to address this problem which increased application conversions almost 100% amongst digital users. With Latinos consistently overindexing in mobile browsing year over year, a strong digital marketing strategy was necessitated. In response, we developed and launched a mobile app which gave prospective students an opportunity to create accounts, receive push notifications about MCNY news and announcements as well as provide a direct line to and from admissions.
Community Influencers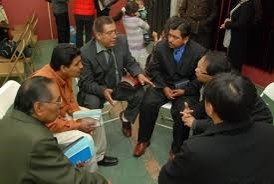 Word of mouth messaging via community influencers is an extremely important element of any effective Latino grassroots campaign and our program was no exception. We leveraged the life blood of the South Bronx community by engaging pastors to deliver their congregations and beauty salon and barbershop owners to recruit their clients. We held a series of educational seminars around sevaral topics including:
College For Single Parents,
Is Language a Barrier to Attaining Higher Education?
Can I Work and Go To School Full-Time?
Admissions representatives attended each session and distributed MCNY course literature and program collateral. The series helped to develop some important relationships with tastemakers in the community and cement the college as the "community's educator."
Jobs Programming
With over 98% of MCNY's students also working, there is an concerted effort made on behalf of the institution to engage in professional and job skills development. We used this as an opportunity to create an immediate impact and develop quick wins by partnering with WorkForce One (now called Good Help). The New York City program is one that Highbrid has worked with through their contract with the Brooklyn Chamber of Commerce. We organized a series of MCNY Career Training Courses on topics such as:
Interview Tactics
Selling Your Self Skills
Resume Makeover
Career Counceling
Job Skills Developement
This was a home run. It instantly created a pool of leads for the Admissions Department and developed relationships with resources in the community that helped to strengthen the brand.
Overall the campaign was a huge success. Today, MCNY ranks among the leaders in non-traditional student education in the country. This is in large part due to the success of the Bronx campus launch. For a more detailed breakdown of the entire program and to view the qualitative and quantitative results, download the full case study below.