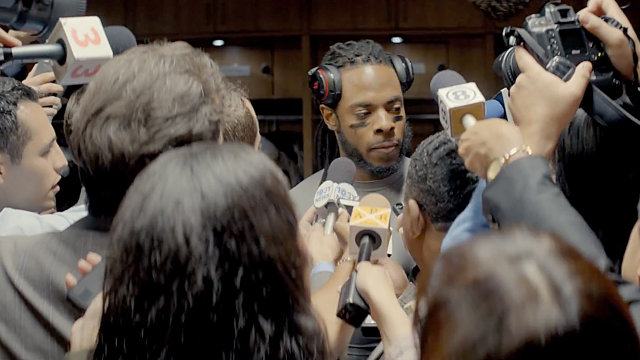 At Metlife Stadium in East Rutherford, New Jersey despite being the home of not one but two teams it's always hard to land a seat at a game. Now, with the Superbowl a week away you might have a greater chance of winning the lottery. But Beats By Dr. Dre owner, Dr. Dre (born Andre Young) might have done both at the same time.
His new "Hear What You Want" ad campaign has featured some of sports most notable athletes escaping media scrutiny and ruckus fan ridicule simply by putting on a pair of his noise canceling and high end headphones.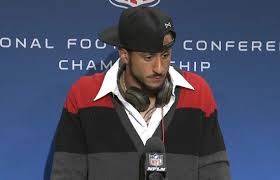 At the start of the playoffs, San Francisco 49ers Quarterback, Colin Kaepernick made waves when he was criticized for wearing the headphones stylishly around his neck accompanied with a backwards baseball cap in his post-game press conference. The media storm surrounding the Kaepernick's style of dress gave the headphone company a huge boost but nothing compared to what was in store.
With the last week's NFC and AFC championship game looming, Beats by Dr. Dre hedged its bets and doubled down on the exposure launching a new ad with Seattle Seahawks cornerback, Richard Sherman who would oppose Kaepernick on the defensive side. And while the San Francisco quarterback would go down in defeat, Beats got the "fortuitous bounce."
Moments after making the play of the game, sending his team to the Superbowl, the Beats By Dr. Dre endorsed Sherman launched into a postgame rant with sideline reporter Erin Andrews.
"Well, I'm the best corner in the game, and when you try me with a sorry recieiver like [Michael] Crabtree that's the result you're going to get. Don't ever talk about me."
The comments were in response to 49ers opposing wide reciever, Michael Crabbtree's week-long trash talk in advance of the game. On the surface it appears to be just another example of an athlete exhibiting lack of judgment in the heat of competition. However for Beats by Dr. Dre it was the perfect storm. The media firestorm quickly descended on Sherman giving him the perfect opportunity to shun the criticism by escaping to his Beats by Dre. But perhaps the Stanford educated athlete had this as part of his plan all along. In almost identical fashion, reporters questioned his integrity and called him a "thug."
"I saw a hockey game where they didn't even play hockey. And I'm a thug? I know some thugs and they know I'm the farthest thing from a thug."
The post-game press conferences eerily mirrors the tenor and tone of the commercial which was obviously filmed before the game. Sherman is seatet at his locker with headphones clearly displayed around his neck answering media questions. "Is trash talk distracting," one reporter asks. "It's motivating," he quickly replies. "Not every kid from Compton is a gang member," he reminds reporters. In the online viral version, a reporter even leans over to another, and whispers, "he thinks he's so f*cking untouchable."
And while Sherman is patient and poised in the face of the darting media questions, it isn't until someone asks if he's a thug that he escapes to the comfort of his headphones blocking out the noise.
With a two week gap between the championship game and the Superbowl, NO story has been bigger than Sherman's comments and Beats by Dr. Dre has had the ad appropriately on heavy rotation giving it not only exposure but extreme relevance.
The product represents Sherman and Kevin Garnett and Kaepernick before him perfectly; a high quality product with edge. What remains to be seen is if, Dr. Dre and company will again roll the dice and shell out the astronomical fees associated with Superbowl ads to further their exposure. Lightning rarely strikes the same place twice but some would argue…it already has.