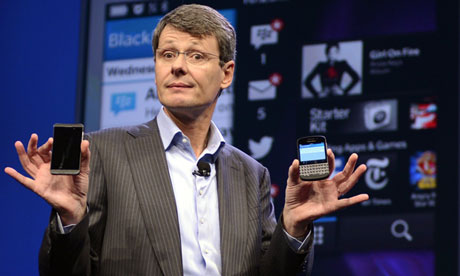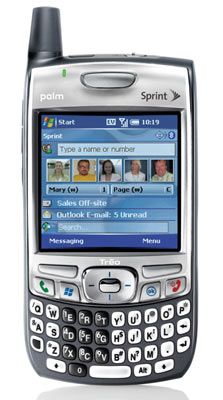 Do you ever wonder what happened to Palm? You know that once cutting edge company that made the Palm Pilot and Treo ? If you don't, please don't feel bad you're not alone. The company that invented the smart phone essentially went belly up a few years ago. The company faded from our memory with little fanfare despite a last ditch effort by Hewlett-Packard to save the company and its webOS operating system in 2010. Well RIM (Research in Motion,) the makers of Blackberry are hoping you don't similarly forget about them. On second thought, maybe they are. Today, in effort to reverse their nosediving sales in the smartphone market, the company deleted its name, scrapped its business model and started over.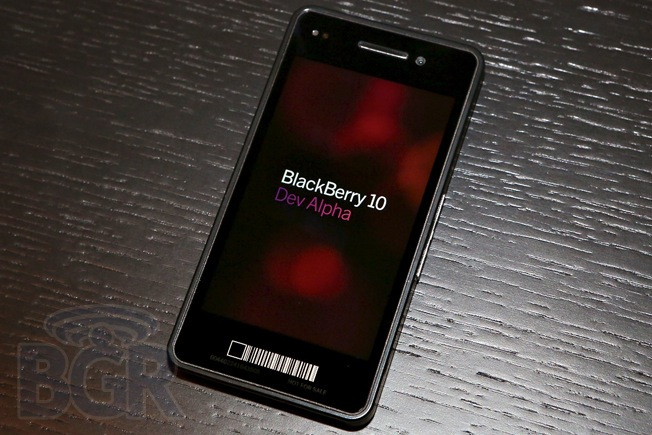 Blackberry unveiled its latest smartphone, the long-awaited BlackBerry 10, at an event in New York City yesterday morning. RIM CEO Thurston Heins said its the beginning of a "new day for BlackBerry."
The company will now be synonymous with the devices they've become famous for... Blackberry. But is a corporate re-brand enough to save it from a Palm-like death. (Full disclosure, Palm actually isn't exactly dead. Its still owned by HP under its current guise "Gram." Now you and the two other people who will read this post know that.)
The move is a long shot for the company that in 2006 held 44.5 percent of the US market but now owns less that 8.4 percent due to Android and Apple's market surge. Obviously a name change alone can't reverse those startling statistics, however creating a cohesive brand and image tackles one of the biggest problems the Canadian company faced. The company was always RIM but their phones were BlackBerrys and no one save a few geeks such as myself knew the difference. They had two names for essentially one product. This is a branding nightmare. LESSON: If your customer doesn't understand what your brand means and who you actually are, how can they build the type of almost romantic relationship Apple has with ITS customers.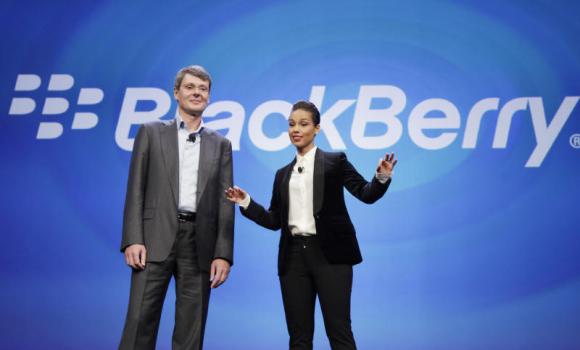 To reinforce Blackberry's rebirth of slick and its new device's creative capabilities, Mr. Heins introduced singer Alicia Keys as BlackBerry's new global creative director. Confused? While no one is exactly sure yet what role she'll have wit the company, Keys becomes the the latest celebrity to assume such a position at a high profile company.
The problem is Alicia Keys is pop culture and the argument has always been that Blackberry is the ideal device for business people. But that was 5 years ago and something's changed. Business is different and the demands of business people are no longer as simple as retrieving email in real time and corporate security, both product objections that Apple and Android solved virtually overnight.
Additionally, a new target market emerged as Apple and Android forged on with their key-less devices. The affluent female in particular has grown attached to their traditional keypads and chiseled out a growing market opportunity for Blackberry to exploit and yet their new 10...has no keys. While there are plans on the horizon to produce a device with physical keypads time is unfortunately not a luxury RIM....excuse me, Blackberry has right now.
The danger of a rebranding is it always can be viewed as a move of desperation. We'll have to monitor their marketing efforts closely within the coming months to see if Blackberry is up to the task and what consumer they plan to cozy up to.
BlackBerry will have a commercial during the Super Bowl this weekend. With rumored price tags of $4 million for a 30-second spot, we may find out quickly if the Canadian company will remain a true player. One thing is for sure they might want to pull their new Global Creative Director aside and tell her its probably not a good idea to tweet about her new role with Blackberry from an iPhone.
All is not lost however. BlackBerry's rebranding must communicate a new cohesive philosophy to its loyal customers and the perpetually shopping marketplace. It needs to convince people that its operating system is a worthy alternative to iOS6 or Android and its phones are on par if not better. And it has to deliver apps. People love apps. Although no one will every use 26 million apps, they sleep at night knowing they have access to them in an app and media ecosystem that can hold its own against the Apple App Store and Google Play. This is going to be their key to success. Branding is great and can go a long way to help sell a product but with a marketplace of almost 100% saturation, the challenge becomes convincing enough consumers that yours are better than theirs before its too late.