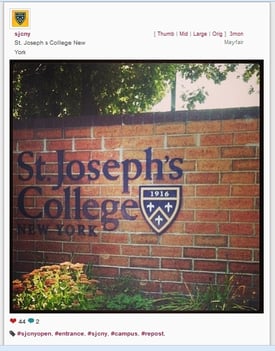 Recruiting students to any college campus can be extremely challenging. Especially in this day and age when the lanes for communication vary vastly and a number of messages traveling in these lanes are more than can fit, or that any one person has the mental bandwidth to process. The same challenge presents itself in communicating with the current student body. Disseminating information and communicating to thousands, sometimes tens of thousands, of current students who differ in terms of matriculation levels, interests, and attention spans can seem like mission impossible.
It's no secret that social media is a preferred method of receiving and sending information amongst student bodies and those aspiring to become students at the collegiate level. Colleges and Universities, some more hesitantly than others, have come to the realization that using social media as one of the main tools for communicating with current students, alumni, and prospective students is an absolute necessity.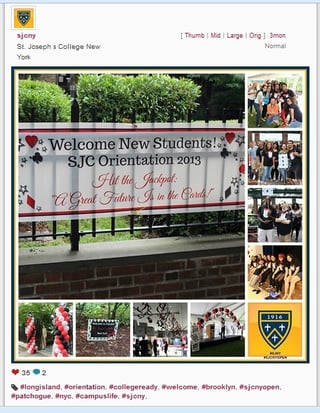 This was the realization of St. Joseph's College, a New York-based private liberal arts college born out of the Jesuit tradition but much more secular in its present-day operations and approach to higher education. Part of the equation was that they have two separate campuses -- one in Brooklyn, NY and one on Long Island, NY -- with very different student bodies. Brooklyn tended to attract an older non-traditional student, one who usually worked full time and attended the school either part or full- time, while Long Island had a more traditional student body, mostly made up of students who went directly from high school to college.

Highbrid Media was able to partner with St. Joseph's College to address the lack of resources dedicated to social media. There was no monitoring or management across platforms, engagement with prospective and current students was below 1%, and amongst alumni, the engagement was also non-existent. Additionally, social media wasn't being leveraged as a tool for recruitment and the growth in the followers, likes, and other Klout metrics were negligible.
The development of an editorial calendar was key to the plan. Determining proper content, the moment at which that content would go out into the world and who that specific content was aimed to was instrumental for success. It was important that this be a collaborative effort, so the calendar was cloud-hosted and shared with essential faculty and staff.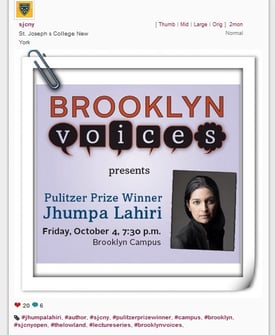 Harnessing influencers from the current student body, professors, and staff who were already active on social media was another step in the process. Adding unique tags to track engagement and encouraging sharing of posts from St. Joseph's social pages, along with repurposing archived content, were also part of the execution.
Contests and giveaways were one of the sure-fire ways to increase engagement. Although spikes may be based on a temporary motivation with smart engagement, you can maintain that growth well beyond the time frame of any contest or giveaway.
We developed an engagement model that had two basic elements: the immediate network and the open network. The content was then funneled with these models in mind to the appropriate social channels.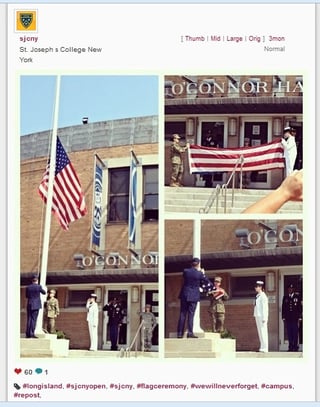 The St. Joseph's Facebook page was a central hub for recruitment and info, and it empowered students and alumni by inviting them to share their stories using an assigned tag #breakthemold which was geared to our non-traditional audience. Promotion of the fall open houses on both campuses to both audiences was vital as well. Open House was a prime opportunity and we took advantage with contests and giveaways, live streaming, simultaneously engaging both the online and in-person audience.

The end result was a sustainable calendar and process map for content and channel management, increasing overall activity by 73% as well as increased student engagement -- by 49% among current students, alumni, and prospects. Open House attendance increased by 41%, and over 2k posts with assigned tags in a 90-day period. Not to mention, an increase in followers well beyond what was promised.
St. Joseph's definitely turned a corner with this campaign. This was a successful mix of digital marketing and grassroots marketing and the momentum they gained has only continued to help them increase and maintain a robust presence on all platforms. Click on the link below to download the full case study. We welcome your thoughts, questions and feedback.