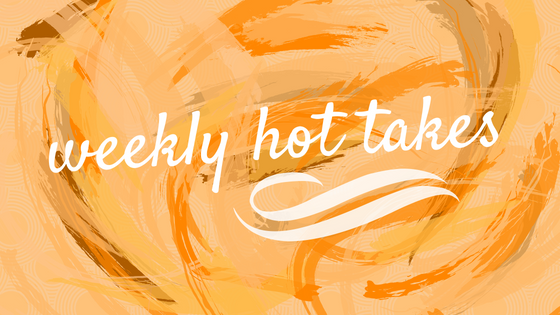 Weekly Hot Takes is back for another round!
This week, the topics are being thoughtful with your website content, how to use the changing season to your advantage, and what days in October can be wins on social media.
A Picture Says...
Sometimes, I think that people don't put enough effort into their websites -- when they even have one that is.
[Tangent: this is something I have never, and will never, understand. In this age where we increasingly rely on technology, why would you not have a website, or some kind of digital presence? I mean, at the very least, could you put your hours on Google so I know when you're open without having to play the phone call version of Russian roulette?]
Whether it's the fact that the picture quality itself is low and looks grainy even on the smallest screen, or something where I can tell by looking that there wasn't a lot of thought put into the actual photos -- namely you hired a photographer, he took some shots and you stuck them in places you thought would fit. Put some effort into the pictures on your website. Take photos on different days with different groups of people to at least give the illusion that these are natural situations that occur regularly at your place of business, no matter the industry. It may seem like a lot of work, but once they're done, you won't have to focus on them anymore.
Also, you never know what tiny seemingly inconscipuous thing could turn a potential customer off.
Fall is Here!
If you haven't heard, Starbucks started selling their Pumpkin Spike latte flavor again, which can only mean one thing... fall is here!
So what are you doing to market for it? Are you decorating your office or brick and mortar with apples, pumpkins, leaves and etc.? Have you made specials for your customers and pushed out sales? Are you planning to do something through social media to recognize the season change? What fits in with the branding of your company?
Push out some content talking about the season, make some lists relevant to your business and your audience -- a reading list, a food list, a tool list, actionable steps they can take, etc. Whatever it is, be sure that it's timely, that it's relevant, and that it stands out from the pack.

Octoberfest
September is almost over (and I'm disappointed I didn't talk about the fun September holidays like Labor Day and how amazing it is in reaching the West Indian diaspora), but October is upon us! So let's talk about easy wins for social media in the spookiest month of the year. Of course, we all know that the biggest draw for October happens on the last day of the month (Halloween), but what else can you use leading up to that?
First, let's highlight some monthly things:
Breast Cancer Awareness Month
Cookie Month
Domestic Violence Awareness Month
National Diabetes Month
National Pizza Month
National Vegetarian Month
Get an inspiration from these month-long options? If not, try some of these week-long events on for size:
Week 1 -- Get Organized Week
Week 1 -- Customer Service Week
Week 2 -- Fire Prevention Week
Or maybe you're looking for something that you can post about quickly on specific days. In which case...
1st -- National Homemade Cookies Day (goes along perfectly with Cookie Month, right?)
3rd -- Techies Day
4th -- National Frappe Day (run a cafe? This could be a great subject for a social post!)
5th -- Do Something Nice Day (#PayItForward)
5th -- World Teacher's Day (the most underappreciated profession deserves some love)
8th -- Columbus Day (or, as some of us say, Indigenious Peoples' Day)
9th -- Fire Prevention Day
10th -- Take Your Teddy Bear to Work Day
12th -- National Gumbo Day
14th -- National Dessert Day (my kind of national day!)
16th -- Bosses Day (have bosses that don't suck? Let them know!)
17th -- National Pasta Day (ask your followers what their favorite dishes are)
19th -- Evaluate Your Life Day (say something motivating)
21st -- National Pumpkin Cheesecake Day (make one, share one, eat one, etc.)
25th -- World Pasta Day (second verse, same as the first)
30th -- National Candy Corn Day (for people who actually like that...)
31st -- Carve a Pumpkin Day (it's Halloween! Carve a brand-related pumpkin [or try to], share it on social media.)
31st -- Increase Your Psychic Powers Day (I mean, if it works with your brand, why not, right?)
Want to take a look at the list for yourself? Click here.
What did you notice or have thoughts on this week? Comment below.