Top 5 Marketing Lessons Learned From Past Economic Crisis
6 min read
September 28, 2020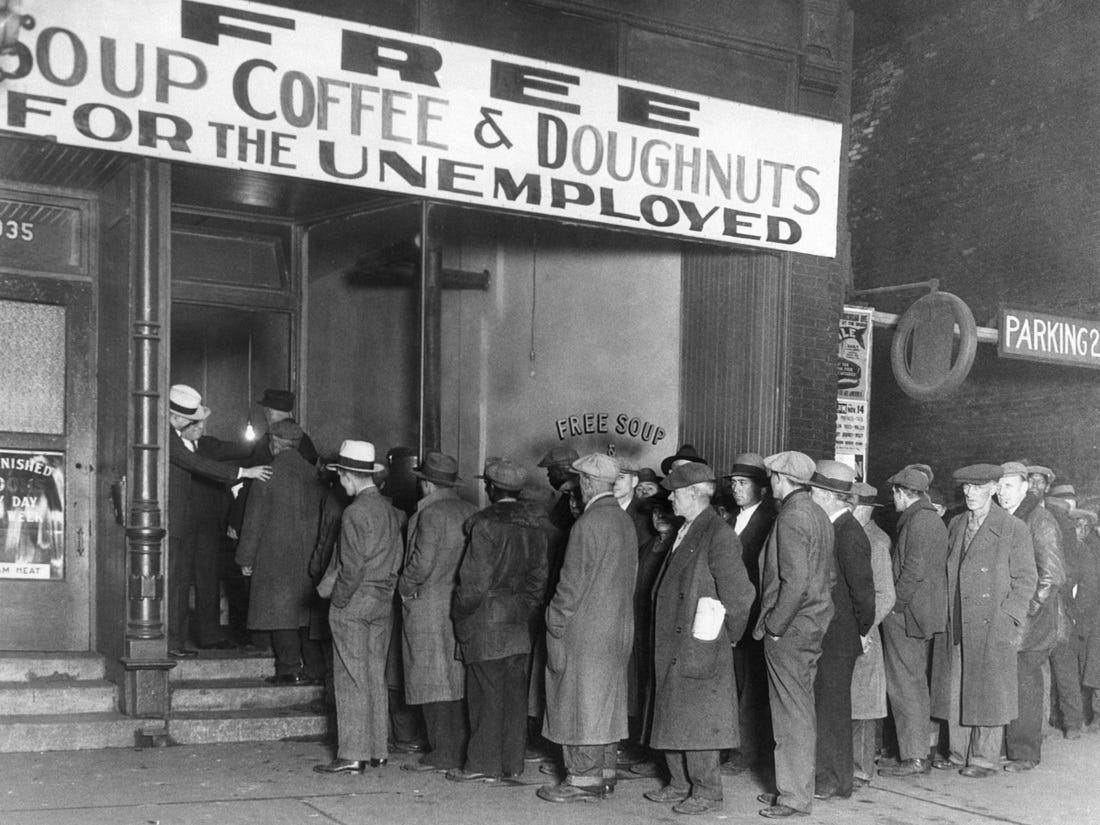 On Tuesday, October 29, 1929 historically known as "Black Tuesday," the Dow Jones Industrial Average plunged nearly 13 percent signalling the worst economic event in world history. By 1933, nearly half of U.S. banks had failed, 15 million Americans were unemployed and the Great Depression had gripped the far reaches of the globe. In 2007, the bursting of the U.S. Housing bubble caused global financial crisis again. Yet through it all, the economy has always rebounded and when the dust settles we learn of stories of those that have done much better than others at weathering the storm. There are always lessons to be learned through hardship. These are my top 5 marketing lessons learned from past economic crisis.
Double Down on Research & Content
Prior to the Great Depression, Procter & Gamble had spent the previous 100 years known primarily for its bar soap. As the Depression waged on, retailers cut back on orders and inventory piled up. In the face of the economic crisis, P&G shifted and became a pioneer in market research. The company investeted in studying consumer's needs and its own product appeal to more efficiently supply and meet demand. What P&G realized was that even in a depression, people still needed soap. While their grocers couldn't sustain their business on soap alone, Proctor & Gamble needed to engage their audience and did so by building the first direct brand to consumer marketing strategy.
While reducing advertising spending for most businesses seemed like the obvious way to cut costs, P&G actively pursued new marketing strategies. With many Americans out of work, radio exploded as the family form of entertainment. P&G's research suggested that this could be an excellent conduit to communicate with its buyer persona, female homemakers. In 1933, P&G sponsoring its first daily radio serial, Oxydol's Own Ma Perkins. Woman quickly fell in love with the nightly program about widow and her favorite laundry detergent, Proctor and Gamble's Oxydol. The program was so successful that P&G launched similar programs to promote entire line of products. By 1939, the company was as much a media company as it was a consumer goods corporation, producing 21 radio shows which is where we today get the term "soap opera."
>>> READ NOW: Valuable Marketing Lessons from the Presidential Election Exit Polling <<<
Diversify & Innovate
The Great Depression brought economic strain for all industry, but none was more impacted than America's Breweries. Already enduring the prohibition of alcohol since 1920, less than 10% of brewers survived the end of The Depression. Bad for them but good for quality.
Considered a "noble experiment", the 18th Ammendment and Volstead Act which sought to enforce it, overnight rendered one of the countries biggest industries extinct. Ok, yes, while most bootleggers sold alcohol on the black market, the enterprising few sought new streams of revenue. They used their agricultural experience to grow additional enterprise including dairies and meat farms. They even reimagined the brewing process to mass-produce non-alcoholic drinks like root beer and Ginger Ale.
Those that innovated, diversified their product lines and perservered were rewareded. Today, the five best-selling beers in America are all produced by those that survived the Great Depression including Anheuser-Busch, Coors, Miller, Pabst and Yuengling.
If It Aint Broke, Perfect It.
The path to a $215 Billion corporation was not as smooth as you might imagine for Netfix. Those of us of a certain age might remember when the company was a cumbersome DVD-by-mail service with an odd business model. In fact, from its launch in 1997, Netflix fumbled along trying to find its stride as the heir apparent to Blockbuster and other fading video stores. For over 10 years the company was constantly tweaking its offering, changing its messaging and altering its business model. It would land them in some hot water when a customer sued them for false advertising, claiming the company failed to deliver on its promise of "unlimited rentals" with "one-day delivery" because the U.S. postal service upon which their business model depended, was unpredictable.
When the 2008 Financial Crisis hit, Blockbuster was on its way to to bankruptcy and the housing market had gone belly up. Netflix suddenly found itself in a price war when the video rental kiosk maker, Redbox started offering unlimed DVD rentals for $1.
Due to economic hardships, consumers began spending less on entertainment. What we didn't realize was that Netflix understood that the habits of the 2008 consumer would soon change. Like P&G in the previous example, Netflix invested in research and development. They took notes as video game consoles like Microsoft's XBox and Playstation were increasingly being used as first generation streaming devices and as Samsung launched the worlds first Smart TV.

While most companies hibernated, Netflix capitalized, completely overhauling its model. In 2008, They launched their brand-new streaming service called "Watch Now", which allowed members to instantly watch select television shows and movies on their personal computers.
When the service launched, it had just 1,000 titles, many of which were obscure and only worked on PCs and Internet Explorer. The new project left many users, (myself included) confused about the direction of the company. We all loved our DVDs and the model worked so it was hard to think there could be something better and more convenient.
Today, Netflix has over 182 Million global subscribers and now 13,000 titles but actually falling as the company again looks to tweak its model in this latest economic crisis and focus on producing original and exclusive content.
Leverage Your Following
The financial crisis in 2008 hit small businesses particularly hard. Not only were sales slowed as a result of the crisis, but banks were very shy and obtaining a loan to weather the storm was almost impossible to come by. The total amount of commercial loans to small businesses between the second quarter of 2008 and the second quarter of 2010 declined by $40 billion. Many small businesses didn't make it. As a result, many people were left unemployed including would-be entrepreneurs who, in different times, would seek bank loans to capitilize their startup dreams.
Small business was needed to help jumpstart the economy but how? Alternative lending sources like factoring have been around since the dawn of time but the selling of invoice receivables were expensive for Small Businesses and largely seen as a predatory practice.
In response, Entrepreneurs began leveraging the followings they had built on the emerging social media platforms. Everything was being shared on social and the need for help was no different. Crowdfunding platforms like indiegogo and kickstarter were launched and emerged as a popular option for business owners to secure financing and for startups to prove concept and raise capital. As a result, crowdfunding revenue tripled from $530 million in 2009 to $1.5 billion in 2011.

What was once believed to be a platform for mindless chatter, Social Media emerged as a vehicle upon which Small Businesses could grow community and leverage its power for influence if not simply revenue. Today, according to fundera.com, over $17.2 billion (+33.7%) is generated annually through crowdfunding in North America. In 2019 alone there were 6,455,080 worldwide crowdfunding campaigns raising an average of $28,656.
Trust your Eyes
The market crash of 1929 made a fool of some of the most highly regarded business people becuse they didn't prepare. The greatest danger of being successful is complacency. The crash wasn't a result of some unseen threat, it was caused by the common belief that Wall Street's good times were never going to end. The ignorance of others can provide huge opportunities for those that are prepared and well researched.
Floyd Bostwick Odlum was a lawyer and industrialist who today is highly regarded as the only man in the U.S. who became a millionaire out of the Depression. You should forgive yourself if you don't know who he is. History and many of the "smarter" business people, aimed to have his success erased. Like so many, Odlum invested in stock market but would quickly lose all of his $40,000 starting capital, a mistake he would learn from on his way to becoming a legend.
Odlum vowed never to lose again, diving into research, ignoring the popular stocks and finding a niche in the uncharted waters of utilities. From 1923 – 1925 he grew his second $40,000 investment 17x into a $660,000 empire ($9.47M adjusted for inflation). Unlike other investors however, Odlum was well researched and became very skeptical of the market. He sold all his stocks before the crash he believed was coming. When it did, he had plenty of what everyone needed...cash. He began buying failing companies at a discount and consolidating or selling their assets for more cash.
---
All of these lessons apply today and to marketing. There are many successful marketers that do well despite themesleve, riding the wave of current market conditions. Its easy to be successful when success is in abundance. The good times are never sustainable. As history has told us, crisis lie just around the next corner. One must be not only able to see the impending storm coming from far enough away but they must be disciplined enough to plan accordingly and leverage the opportunities when they come.