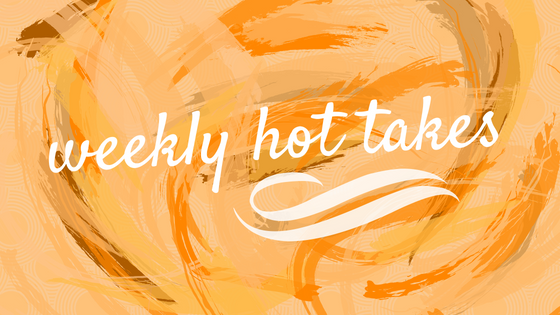 Another Saturday morning, another Weekly Hot Take. Let's talk about it.
Get Your June Strategy Finalized
When thinking about what kind of marketing events to focus on or recognize in June, it might be hard to figure something out. I know when I think of June, Father's Day comes to mind, and I immediately draw a blank on anything else. And mentioning Father's Day is funny enough, as it doesn't tend to get as much recognition as Mother's Day does. Still, it is a holiday worth spending some marketing effort on, even if you're just sending a message to your followers on social media, or reaching out in your customers inboxes.

But what else can you celebrate in June, or otherwise recognize? June is known to be Gay Pride month, and it's a perfect time to voice your support for the LGBTQ+ community, for one. If you're looking for something a little more fluffy, you can focus on it being National Adopt a Cat Month. Something fun -- recongize it as Candy Month!

There's also a whole host of ridiculous days you can think up posts and other quick marketing strategies for as well, from Hug Your Cat Day on the 4th to Best Friends Day on the 8th. You can even take a serious note and recognize the importance of Juneteenth. There's a day for anything you could imagine!

You might be thinking to yourself: my business is super serious and I want to have a respectable social media account and I would never want to post something silly but to that I say this: what do your customers want? What's your target demographic? Would they be delighted by you recognizing something as silly as Ice Cream Soda Day or National Selfie Day? If the answer's yes, it's more than clear that you should make an effort to incorporate fun things into your social media presence.

Because Black Girls Are Magic
May and June are the times of graduations and proms, and also usually around the time where the hashtag #BlackGirlMagic tends to get the most attention. But that, of course, doesn't mean it's not a great tag to check on year around, just to see black women of all walks of life being proud in the skin they're in.

I love the hashtag (so much so that I put it on my graduation cap last spring). It's a simple phrase of empowerment, one that I feel perfectly encapulates how I feel about my community as a whole. That we are magic. Not just when we make great strides and accomplish amazing things even in the face of adversity (even though I do believe that we are), but also on our normal every day lives.

Understanding the purpose of the tag and others like it -- #BlackExcellence or #BlackGirlsRock -- what it stands for, what it means, I feel is a part of understanding some of the overall culture. Understanding brings authenticity. Authenticity lessens the chance of being called out by Black Twitter.

If you're goal is to connect with the black community, this is a definite must.

Don't Be Fake
Nothing is more important than actually being authentic in marketing, which is tied into the other topics of the day. No one, especially cultural niches, is going to buy into what you're trying to sell if they can see the cracks. If it looks like you're not real about what you're doing or don't mean what you say, believe me, it's noticeable.

Here are some of my favorite less-than-authentic moves brands tend to take:
Using slang. Remember when brands were going around referring to "bae"? Yeah, I wish I didn't, too.




Emojis everywhere! I do think that emojis have a place in marketing. It's just hard to feel like the use of them is authentic when half the social media message or email subject uses emojis.




Spanish. I think this is a tricky one, because it certainly has it's place, but it's really about how it's used. If the message flows naturally versus if it looks like someone just took the English version and put it through a translator and thought they were done.
There's sure to be some others I missing, but the overall point is to give your audience -- whether they're young Millennials and Gen Zers, multicultural consumers, both, or other -- more credit. They can tell when you're actually speaking to them or just after something from them.
What did you notice or have thoughts on this week? Comment below.