Top 5 CRM Software for Small Business
10 min read
September 07, 2018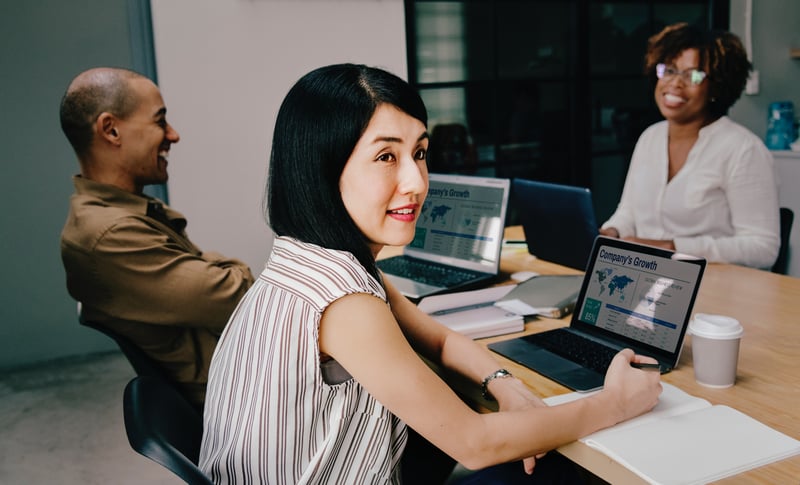 If you're reading this, you're likely already familiar with Customer Relationship Management software or CRM. However, if you're not, I would recommend you check out our blog post "5 Ways CRM can help Small Business" or download your FREE copy of CRM for Beginners before reading further. For the rest of you, you're probably either thinking about investing in CRM or making a switch. In either case, deciding on a CRM is a crucial decision as it's both integrated with both front and back end functions of your small business when implemented correctly. However, not all CRMs are created equal. Your industry needs, type of customer or budget can impact which CRM is best for your small business.
We've spent a lot of time researching, testing and understanding the benefits and features of many different systems on the market. With so many options out there, it can sometimes be overwhelming especially for the entrepreneur with an already full plate. Understanding this, I thought I would help to make your decision easier by ranking the top 5 CRM software platforms, specifically as it relates to small business.


Grade (A+)
Description
HubSpot CRM is built to be a platform that allows entrepreneurs to get started quickly without making much of a change in their existing workflow. It's perfect for companies that are just getting their feet wet with CRM or those with existing enterprise level solutions. Hubspot neatly organizes customers' communication with you in easy-to-follow contact records and company profiles. It allows you to assign tasks to your team and track deals. Entrepreneurs can track activity with detailed dashboards and very helpful reports.

Pros
It's Completely Free


Perhaps the most attractive element of Hubspot is it has been and will forever be free, which for a small business is a huge upside. If this is a non-negotiable for you, you may stop reading now and sign up.

You can link it to all locations of your sales processes


HubSpot CRM

links seamlessly to your existing systems

including your websites, email service provider, social media platforms, phone calls, even text messages and more. This allows entrepreneurs

to log every possible interaction

with consumers regardless of source.

It's Smart and Organized


HubSpot CRM users spend less time on admin work and close more deals because it organizes and tracks each aspect of your sales pipeline, and scales as your business grows. It provides users with valuable insights and key performance indicators (KPIs), so you spend less time doing time consuming research. Store up to 1

,000,000 contacts and enjoy unlimited storage. Unlike many CRMs that I'll mention below, Hubspot caters to both business-to-business and business-to-consumer bu

sinesses and is non-partisan to any industry.

It's Integrated


HubSpot CRM

understands the way you work and doesn't ask you to conform to it, and instead does the opposite, easily integrating its process into your already existing workflow. It

s 100% cloud based and works seamlessly with popular software tools like Slack, Google Docs, Mailchimp, Hootsuite, Dropbox, Microsoft Dynamics, Salesforce, Zapier, Shopify and many more. But the best part is as you grow it offers the functionality most marketing, sales, and now customer service tools all in one umbrella they refer to as their growth stack allowing small business owners to forget about scattered tools and host their entire back office operation under one login.
Cons
Customer Support As with any free software, customer support can be an issue. It's not that HubSpot doesn't offer support but you'll have to get used to using their customer forums and blogs for answers. Don't get me wrong, the information is extremely informative however, when you have an issue, you don't want to read about it, you may want to talk to someone. (Personally, I find I get answers faster looking them up through Hubspot's search bar than picking up a phone.) Depending on your level of comfort with technology, you may have a lot of questions. There's certainly a learning curve with implementing any CRM into your business. While Hubspot is very easy to use, for those less technically inclined, consider hiring an agency or an on-boarding consultant (we provide these services if you need) to help you properly implement Hubspot CRM into your business so you can hit the ground running.


Grade (B)
Fresh Sales is a high-performing CRM designed for medium to large businesses with high-velocity sales teams. It's easy to use while chewing through thousands of leads and contacts. While Freshsales is a relatively new product, it's the brainchild of Freshdesk, the respected customer support software and ticketing system. It's easy to set up and fully cloud-based. Freshsales offers a full suite of auto-dialers, call recording, call routing and is a leader in providing revenue analytics and reporting.
Pros
Email Tracking

Send emails and view reports of opens and clicks. This is great for improving future content and gauging who's currently interested in your product or services.

Direct Calls

If your business is one that fields a lot of calls, this is a really cool feature. Freshsales allow calls to be transferred to it directly, no assembly required. You also create personalized welcoming messages, ID callers, and monitor live calls for quality assurance.

Superior Reporting and Analytics

Freshsales is a leader in reporting offering default reports and customization options to cater it more to your business. You can also use filters to run reports over any specific period of time.

Customer Support

Customer support is not only offered on paid packages but free versions as well via phone email or live chat. There is also an extensive knowledge base and customer forums that you can train on get up to speed with the software.
Cons
No Dashboard


One of the glaring issues with FreshSales is there is

no dashboard that gives you an overview of sales and leads. For a small business, you should be relying on a snapshot of your funnel position to make certain decisions and to forecast. FreshSales needs to address this in future builds. Currently you only see your leads upon log-in.

Not Designed for Small Business


It's a tool for sales teams. Most entrepreneurs are the sales team... as well as the marketing team.... customer service and custodian. For a small business, there will likely be many features that will get left unused.

Issues with Compatibility


Unlike Hubspot which integrates with everything under the sun, FreshSales is a little rigid in its integrations with some of the products that small businesses currently rely on for business. Compatibility is a huge point of contention. Before considering FreshSales, I would be sure to check that it integrates with your favorite online business tools. The point of a CRM is to create a one-stop hub, if it isn't that for you, I would consider other options on this list.

FreshSales is Not Free.

There is a free light version but its very limited in its functionality and over time you'll need to upgrade to one of the paid solutions. They're not expensive, but for small businesses, all investments need to be weighed carefully. If you use Freshdesk already, I wouldn't think twice, otherwise, choose carefully.

Grade (B)
Piperdrive was built by app developers for sales people. However, this doesn't mean it's not a useful tool for small businesses. It's a lead nurturing machine. Pipedrive organizes your leads, prioritizes them for you and provides an overview of your current sales outlook. It's very easy to implement and shows results instantly.
Pros
Full Mobile Optimization

Apps are cool but can make toggling back and forth a bit cumbersome. Pipedrive allows users to have the full functions of the complete site mobile optimized. While the experience is better on a tablet than on a phone, you can take notes in real-time during a meeting or record calls.

The Ultimate Sales Machine

To borrow a term from one of my business idols, Piperdrive is a sales organization's dream.

It helps sales managers and small business entrepreneurs apply best practices to define and refine a customized sales process that's repeatable and productive. It takes into account the things that frustrate Sales Teams the most.

Built for the Pipeline

Piperdrive is the CRM for lead nurturing and pipeline management. It helps users focus on the leads that are more most urgent to address and prioritize activities accordingly without spending too much time in navigation of the software.
Cons
Many Reports are buggy and plain wrong

One of the common complaints amongst regular users of Piperdrive is the innacuracy of their reporting. We've only tested the product, and not being regular users haven't come across this as a problem. The charts and visuals are OK but if quality reporting is your top non-negotiable, I might consider another option.

Does Not Integrate with Outlook Calendar

This would seem like a no-brainer but for some reason, Piperdrive doesn't

sync meetings with Outlook Calendar without having to go through a third-party like Zapper. I'm not sure if there's a category exclusive deal that prohibits this very basic integration but if you swear by Outlook, you may want to look elsewhere.

Difficult to Scale

Piperdrive is an excellent CRM day-to-day but has some trouble as a business grows and scale. This is somewhat alarming for a growing small business. As your business grows you don't want to constantly be adapting to new systems. Piperdrive lacks an understanding of the plight of a scaling small business and can be a little troublesome adapting to as your sales team and revenues grow.

Limited Support

Support is only available Monday through Friday during normal business hours but as we know for many small businesses, normal can mean the middle of the night. Unlike the other options on the list their library and forums are a little light on helpful content.

Grade (B-)
Salesforce CRM is the industry standard in CRM solutions. It is by far the most powerful system on the market. Its fully customizable and is the engine that powers most of the world's largest Fortune 500 corporations including such giants as Google, T-Mobile, Vodafone, American Express, Toyota, and others. According to a 2015 research by Mintigo, around three fourths of Salesforce customers have annual revenue between $1M and $50M.
Pros
AppExchange

Salesforce is so robust, it features its own app exchange.

Salesforce has developed a number apps for sales, marketing and service stacks. Moreover, a large number of mobile certified Salesforce partners to develop other useful apps through its open-source network.

The native CRM app features real-time data from dashboards and custom reports. Available for both Android and iOS, it gives users the software's main functions on-the-go and is the most powerful CRM application on the market. You're able to effectively log calls, reply to contacts, or lead nurture in real time. Drag-and-drop business processes such as deals, discounts and expenses using the

Visual Workflow. Stay in sync with team members and

track changes in real time.

They Pioneered the Market

Salesforce was the first to deliver CRM as a software as a service CRM which appeared to the Small and Medium Business (SMB) market. They disrupted the large, expensive and clunky on-premise CRM software systems and was user friendly allowing businesses to start seeing results in days, not months or years.

If a Business Needs It, Salesforce Does It.

Cloud-based CRM is only a thing because of Salesforce. As the pioneers in the market place they've been the most highly sought-after system. Companies of all sizes, shapes and industries have presented Salesforce with their business challenges. As a result, they've created solutions for almost every scenario a business will ever face. Their experience in the marketplace is unparalleled.

Constant Upgrades

Every four months, Salesforce automatically delivers updates to its products all while leaving all user data and customization intact.
Cons
It's Expensive

While you're not only paying for the brand-name, as an entrepreneur you'll likely never use most of Salesforce CRM's most useful features. It's almost entirely too powerful for most small businesses. Salesforce bills annually upfront and charges per seat (or per person). The basic package starts at $25/ user per month and ranges up to $150 per user. For most, Salesforce is an aspiration product and prices most small businesses out of the market.

It's Complicated

Salesforce is designed to be the end-all solution for every business need. As such, it has countless features that will leave small businesses overwhelmed at best. Most large corporations dedicate entire teams to Salesforce training, administration and on-boarding.

It's Overkill

While I 100% would advocate that any growing small business be run on a CRM it doesn't have to be and, in most cases, shouldn't be Salesforce. Even certified experts in the platform specialize in one aspect or another. There is so much customization that if you're starting from scratch will take you years to master. This is valuable time the small business can spend growing their business with a far simpler and cheaper option. I would advise sacrificing any might need features of Salesforce for a solution with a suite of features you absolutely will need and use every day.

Grade (B-)
Zoho has been a leader in contact management but has come a long way in how they've helped small businesses manage their sales pipeline and lead nurturing. Zoho has revamped its interface to integrate all facets of its tools in one place. The new Zoho CRM promises to cater to small businesses, solopreneurs, or a large enterprise by automating daily business activities, tracking sales, and engage customers.
Pros
Leader in social media integration

Zoho's roots are undoubtedly in the social media world. While it's now a comprehensive solution, there is no better solution for managing your leads through social platforms. Zoho CRM's social integration is so intuitive that it reads visitor behavior and can categorize them appropriately as a contact or hot lead allowing sales to take the appropriate action.
Cons
It's Unremarkable

Zoho CRM has been a player in the marketplace for some time. It's a very solid product. So why is this a con? Support is OK. Features are fine. Reports are on par with others. It's also a very safe product...it doesn't try to be an innovator. It's never first to test out a new feature but as such, is never going to fall flat on its face. It gives you what it promises, a solid CRM. It has very few distinguishing characteristics from other CRMs and at the same time very few limitations.